Recorded etcetera at Big Noise. Produced by The Faith Healers and Leon. All songs written by us as well. Art work by me in fact we done absolutely everything. Thanks ever so much Laura Lee Davis and to darling Richard, Paul and all who operate the Sausage Machine.
Notes/Trivia:
A fourth song, "Domehead", was recorded for this single, but didn't make it onto the release. It ended up on a flexidisc that came with issue no. 2 of Big Muff fanzine.
The people shown on the cover are (obviously) not th' Healers, but back then, quite a lot of record buyers thought they were.
A cute beermat was designed to promote the single: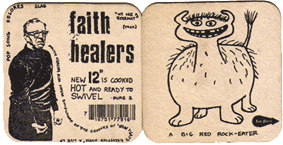 ---