Home | Biography | Discography | Interview | Pictures | Lyrics | Impressions | Sounds | Poll | Credits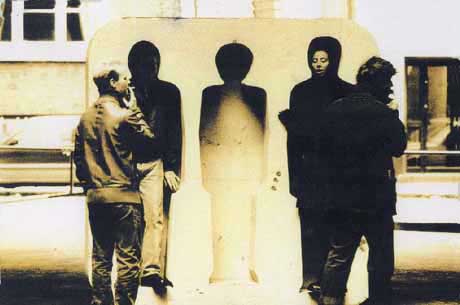 Th' Faith Healers Biography
Biography by Dave Ehrlich | Too Pure Biography | Contact addresses
---
Th' Faith Healers are:
Roxanne Stephen, vocals
Tom Cullinan, guitar/vocals
Ben Hopkin, bass
Joe Dilworth, drums

Absolutely devastating. I remember the first time I ever heard th' (no 'e' please) Faith Healers. I was driving to my stupid job (in a candy store, no joke) and found myself stuck in a mammoth bumper-to-bumper jam on the highway. Crackle, crackle... something new floated over the airwaves... a sultry, growly female vocal snaking around in a thumpa-thumpa beat... slinky, cool... suddenly the whole thing turned savage. The singer hissed through her teeth, the guitars (sounded like 50 of 'em) stuttered and spat, and the whole damn thing went into hyperdrive. The storm settled into a heavy groove, both hypnotic and chaotic at once, the song corkscrewed and churned and ended only when it thudded into the ground with a crash. Work (and the rest of the day), needless to say, paled in comparison to this aural onslaught. Utterly perfect... I was in love.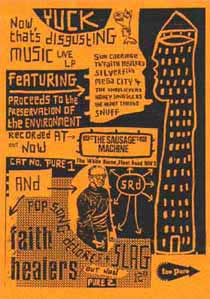 Rewind to 1990: Paul Cox and Richard Roberts are hosting shows at the Sausage Machine Club, in the basement of the White Horse in Hampstead. The two decide to start up a record label to showcase the bands emerging from this scene, Too Pure. Their first signings? Th' Faith Healers, who else?
Tom Cullinan played the guitar, Ben Hopkin played the bass, Joe Dilworth pounded the drums and former Falcon barperson Roxanne Stephen did the vox-thing. Their first appearance came on the first-ever Too Pure release, a live compilation called Now That's Disgusting Music, all comprised of bands that had played at the Sausage Machine. It was a tune called 'Jesus Freak', and it, basically, came snarling out of your speakers, grabbed you by the throat and demanded that you love it. You were left with no choice but to comply.
The first Healers 12" appeared in mid-1990, and contained the tracks 'Pop Song', 'Delores' and 'Slag'. The single appeared following a tour supporting Lush, and was followed with an alcohol-drenched headlining gig in November at the LSE.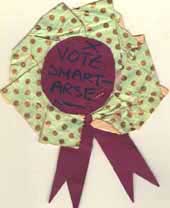 In February '91, the band released the Picture of Health EP. The lead-off cut, 'Gorgeous Blue Flower' quickly became a staple of their live set. Reviews were unanimous with praise, live shows rousing successes, so, naturally the band... took a six-month vacation! Th' Healers re-emerged in the autumn with the In Love EP, featuring a Healers classic, 'Reptile Smile' and two other cuts. It galloped to the upper reaches of the indie chart and the band found themselves playing a Christmas party at the Camden Palace.
Meanwhile, Too Pure was rapidly becoming the most talked-about indie label in Europe. Th' Healers debut LP, Lido, finally appeared in 1992, and featured eight tracks (seven originals and one cover, a mesmerizing take on Can's 'Mother Sky'). From the full-throttle mayhem of the amazing 'Hippy Hole' to the gentle acoustics (spiked with acid-soaked peppermints, no doubt) of 'It's Easy Being You', Lido served as a perfect souvenir of a brilliant band.
Live shows from the Lido era seem to have taken on legendary status. In reference to Cullinan's guitar use (abuse), Melody Maker said: "If you give this man a coloring book, he would not draw inside the lines ... [Cullinan] squeezes almost every musical idea of the last decade through a mincing chukka beat, and don't we love it ... th' Faith Healers give me butterflies of giant wingspan in the stomach".
Th' Healers' follow-up to Lido, Imaginary Friend, was finally released in late '93 to a rabidly-awaiting public. If anyone was expecting another handful of crash 'n' burn ravers, they were in for quite a surprise...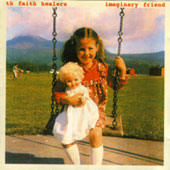 "Imaginary Friend is the sound of a group that have sat back, reassessed their strengths and decided on a change of tack," remarked Paint It Red magazine. "Th' Faith Healers have looked inwards and come up with a universal cry of despair."
The album featured only seven tracks, the last of which was a numbing 20-minute dirge, 'Everything, All at Once Forever'. Amongst the darker hues, however, lie hidden some sparkling pop gems. 'Kevin', 'The People', and especially 'Heart Fog' all eschewed the trademark Healers feedback fuzzbombs for a newfound sense of restraint and control. "Colossal tension ... superb stuff," praised Select.
But it wasn't to last... in the spring of '94, th' Healers imploded. Shortly after returning from a string of US shows (where they supported the Breeders and the Jon Spencer Blues Explosion), the band decided that they'd done all they could do. Rather than limp along halfheartedly, th' Healers opted to call it quits.
A compilation of early 12" singles, L', which had been released in the UK in '92, was finally made available to US audiences via Too Pure/American Recordings in 1995. Tom now plays guitar in his new band, Quickspace Supersport, and Roxanne has resumed her studies.
Dave Ehrlich, September 1995. Used with kind permission.
---
In early 2006, th' Healers regrouped after the US label Ba Da Bing! released their Peel Sessions on CD. Although there are no immediate plans to record new material, the band have announced a brief tour in March and April 2006.
---
Th' Faith Healers began life as a punk cover band in which Ben played drums and Tom on guitar. Settling on The Faith Healers as a suitable moniker, they were soon making drunken fools of themselves at every available opportunity. Joe saw them and something at the core of their shambolic mess appealed -- so when a vacancy arose, he jumped at the chance to join. Ben and Tom remember Joe's joining as the point at which they started to become serious about their music, despite the initial attraction being the band's relaxed attitude.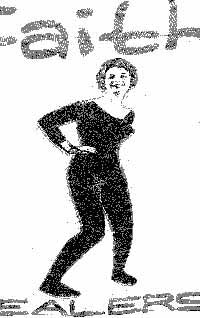 Three gigs later, desperate to play somewhere other than the Dublin Castle public house, the threesome recruited expatriate Scot and sometime Falcon barperson Roxanne, principally because the promoter at The Falcon had promised them a gig just so he could see her sing. They dropped the 'e'. Joe later claimed it had been stolen by Thee Hypnotics, and a legend was born.
Amongst the crowd at these primitive gigs were Richard Roberts and Paul Cox, the most implausible record company executives imaginable, who had decided to set up their own label in order to 'go public' with some of the emergent talent they'd been putting on stage at their Sausage Machine Club in Hampstead's White Horse basement. Too Pure Records' maiden release was a compilation, Now That's Disgusting Music, that put new bands alongside the more established likes of Mega City Four and Silverfish. Th' Faith Healers contributed 'Jesus Freak', and soon afterwards accepted the invitation to become Too Pure's first signing.
In mid-1990, Th' Healers recorded their first 12", 'Pop Song', 'Delores' and 'Slag', which was released following a nationwide tour supporting Lush. Suddenly, alongside Silverfish, Th' Faith Healers were touted by the press as prime movers in the Camden Scene: a loose aggregation of North London-based grunge/noise merchants whose followers indulged in a dance known as The Lurch and frequented gigs at The White Horse, The Falcon and The Bull & Gate. The Lurch (as both the scene and everyone involved in it became collectively known) convened for its Biggest Night Out in November at the L.S.E., where Th' Healers played a headline gig of such alcohol-fuelled proportions that Tom doesn't remember it happening at all.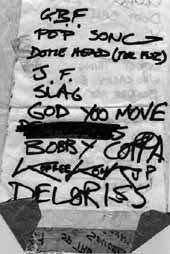 February '91 brought forth the Picture of Health EP, featuring the lead track, 'Gorgeous Blue Flower In My Garden', which the band regard as their most accessible moment. The EP gained them even more glowing press, and their first headline tour was pretty successful until Birmingham, where Ben's bass amp gave up the ghost and a bemused audience were treated to a bass-less 35-minute version of 'Slag'.
Just as the fame and fortune beckoned, Th' absurdly perverse Healers decided to take a six month holiday, finally returning to the studio in the autumn. The resulting In Love EP was fraught by technical problems and is seen as an underachievement by the band. Nevertheless, 'Reptile Smile' and company followed the first two twelves into the upper regions of the indie chart and completed a trilogy of bizarre sleeve designs that gave a whole new meaning to the word 'tasteless'.
After a Christmas party at the Camden Palace where even the Christmas tree was too pissed to stand up, Th' Faith Healers set about recording their debut LP Lido whilst Too Pure became the most talked about independent record label in Europe. Th' Healers singles were compiled on a CD, L', for overseas consumption, and the band's first John Peel session was released by Strange Fruit Records on an LP of sessions by Too Pure artists.
Official Too Pure bio. ©1992 Too Pure. Used with kind permission.